UPDATE: *NEW Schedule Begins November 1st, 2020*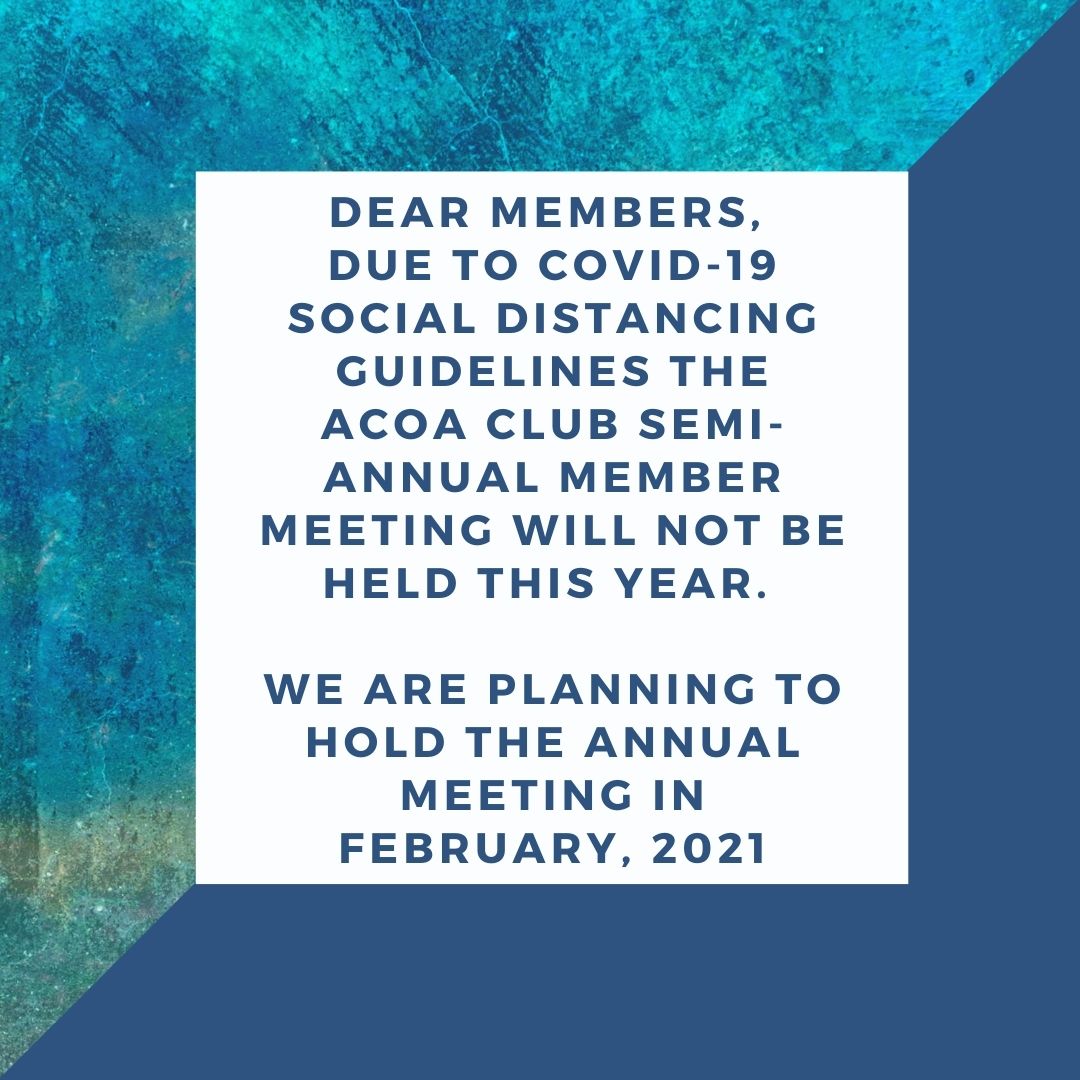 The following groups are meeting 'in-person' at The ACOA Club
7:00 AM AWAKENINGS GROUP – Open Discussion (daily)
10:00 AM AA CLUB MEETING – Open Discussion (Monday thru Friday)
12:00 PM MEN AT WORK GROUP – Men's Open Discussion (Thursday)
2:00 PM DOUBLE TROUBLE DUAL DIAGNOSIS MEETING – (Sunday)
3:00 PM AA CLUB MEETING – Open Discussion (Monday thru Friday)
5:30 PM FIVE POINTS HAPPY HOUR – Open Discussion (Monday thru Friday)
7:00 PM ADULT CHILDREN OF ALCOHOLICS (Monday & Thursday)
8:30 PM CENTRAL GROUP – Open, Speaker meeting (Friday)
The existing Zoom Meetings will continue at their regularly scheduled times. Please bear with us as we do our best to provide a safe environment for all. The following guidelines will be in place until further notice:
No entry until your temperature has been checked at door
Do not enter if you have cough, fever, sore throat, or flu-like symptoms
Mask Required 
Max Seating 28
Respect Social Distancing
Follow Entrance/Exit Signs (stay right)
Bring your own beverage (no canteen sales)
All bags must remain with you at your chair
Half Measures room closed until further notice
Gazebo closed until further notice
ZOOM SCHEDULE
AWAKENINGS DAILY REFLECTION DISCUSSION GROUP
7 AM Every Day
Link to Meeting: https://us04web.zoom.us/j/2510028484
Passcode: 000000
One tap mobile
Enter ID: 2510028484#
Passcode: 000000
Press # When Prompted
CENTRAL GROUP OPEN SPEAKER MEETING
8:30 PM Every Friday Night
MEETING ID: 848 2670 1928
ONE TAP MOBILE
Enter ID: 84826701928#
Press # When Prompted
ACOA WEEKEND CLUB MORNING MEETING
9:30 AM Every Saturday & Sunday
MEETING ID: 876 5172 1937
Passcode: 539264
ONE TAP MOBILE
Enter ID: 87651721937#
Press # When Prompted
DOUBLE TROUBLE DUAL DIAGNOSIS MEETING
6:00 PM Every Wednesday
MEETING ID: 235 080 3108
Password: DTR2020
ONE TAP MOBILE
Enter ID: 2350803108#
Press # When Prompted
*ALL MEETINGS LISTED ARE OPEN MEETINGS OF ALCOHOLICS ANONYMOUS UNLESS OTHERWISE STATED
SINGLENESS OF PURPOSE AT OPEN MEETINGS: This is an open meeting of Alcoholics Anonymous. We are glad that you are all here -especially newcomers. In keeping with our singleness of purpose and our Third Tradition which states that "The only requirement for A.A. membership is a desire to stop drinking," we ask that all who participate confine their discussion to their problems with alcohol. | *Reprinted with permission of A.A. World Ser
The ACOA CLUB is a clubhouse for meetings of Alcoholics Anonymous and various other activities of Alcoholics Anonymous. It is run on a daily basis by paid staff and overseen by a volunteer board of recoverers. For any questions on club matters, please call our office at (803) 799-5416.
______
Other local recovery resources: